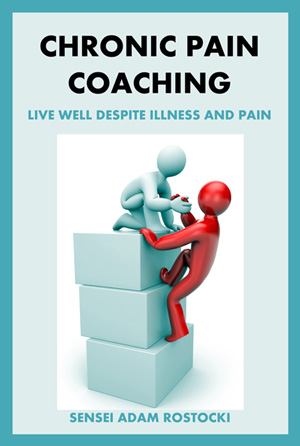 My Chronic Pain Self-Coaching Program is perfect for people who want to work at their own pace and prefer self-help methods of achieving their goals. To this end, I have written a special version of my ebook program, geared towards helping people to make positive changes in their lives, without the direct involvement of an expert coach.
The self-coaching process is challenging, but I have seen people enjoy great results when they focus all their effort into the program. However, I still recommend expert professional coaching, when this is an option. Therefore, I offer all buyers a chance to credit the full cost of the self help ebook program towards professional services with The Chronic Pain Coach at any time within four months of purchase. If you change your mind and decide that expert coaching is the right path for you, I will be there to motivate, inspire and support you like no one else can. This is an iron-clad guarantee.
My ebook self-coaching guide contains special versions of all the tools, assessments and program components of my 4 month professional coaching program. All it takes to succeed is the strong desire to live better and a self-starter attitude. Prior to purchase, be sure to check out my professional coaching programs to compare costs and value to this ebook purchase.
This purchase is not an unmonitored digital download, as is so common with electronic products. I will process your order myself and send you the program via email. Therefore, you will have an open line of communication to me if you decide to upgrade to a full service coaching program. Due to this reason, please allow me up to 2 business days to send you the purchased course materials. If you have any problems or questions, please contact me and I will reply quickly.
---
Attention Coaches:
This self coaching program also makes a great guide for qualified professional coaches who want to increase their client base by offering pain coaching services. While the program consists of copyright-protected material and is not rebrandable, the program provides a great basic education on what it takes to coach clients who suffer from pain and illness. It will certainly help coaches to decide if pain and illness coaching is right for integration into their service offerings.